I hope you all had a fantastic Thanksgiving. Ours was quiet and nice. We have a fridge full of turkey, stuffing, and mashed potatoes. Not sure, who I thought I was cooking for, but more is always better on Thanksgiving right? We had a nice visit with Greg's mom. It's nice to spend that holiday with family.
Now we are back to work, or at least I am back to work. I apologize for lacking on keeping up with the blog. You remember the book I was writing? Was, is the operative word there. I literally burnt myself out on the writing and had to stop. Between working on beads and marbles and trying to write that much a day, my eyes we going haywire. Too much computer and too much torching. Some thing had to give, and I didn't want it to be my eye site. I very much enjoyed the writing and still plan to continue it, but not at that high pressure pace. It was too much, especially with the holidays here.
So speaking of Holidays, how is the shopping going? I haven't bought one thing or made one thing yet, but my list is coming together, so that is nice.
Speaking of marbles. I am back to making them and really am enjoying myself. Here is a poinsettia one on ebay: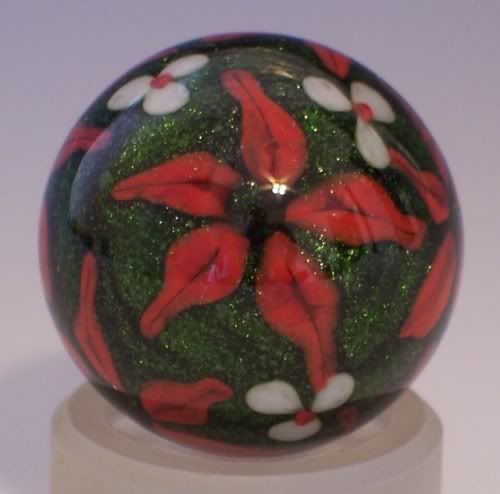 I have a ton of work to catch up on after the long weekend, so I am off to do it. Cheers!