Soulless
The first in the Parasol Protectorate Series
By Gail Carriger
Steampunk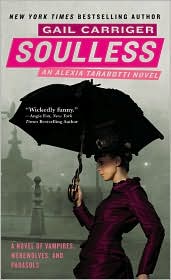 From the Barnes and Noble website:
"Alexia Tarabotti is laboring under a great many social tribulations. First, she has no soul. Second, she's a spinster whose father is both Italian and dead. Third, she was rudely attacked by a vampire, breaking all standards of social etiquette.
Where to go from there? From bad to worse apparently, for Alexia accidentally kills the vampire — and then the appalling Lord Maccon (loud, messy, gorgeous, and werewolf) is sent by Queen Victoria to investigate.
With unexpected vampires appearing and expected vampires disappearing, everyone seems to believe Alexia responsible. Can she figure out what is actually happening to London's high society? Will her soulless ability to negate supernatural powers prove useful or just plain embarrassing? Finally, who is the real enemy, and do they have treacle tart?
SOULLESS is a comedy of manners set in Victorian London: full of werewolves, vampires, dirigibles, and tea-drinking."
I love this series! And just now as I was looking up the other four titles, I realized the fourth one has just been released. You're lucky I'm still here writing this post, as I am dying to download it to my Nook this very instant. Alas, I already started so here goes:
Soulless
Changeless
Blameless
Heartless (just released)
Timeless (coming in March 2012)
These books have something for just about everyone. Romance, vampires, werewolves, science fiction, historical, mystery, and comedy.  They are lightweight and an easy fun read. If you like spunky, sassy heroines, Alexia is the ticket.
If you aren't aware Steampunk is a relatively new genre, usually set in Victorian England, though not always. They have a science fiction element to them that revolves around steam technology. These books do a great job of mixing romance, paranormal and science fiction.