It's Bead So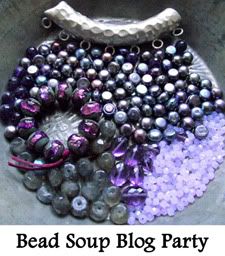 up time. The lovely Lori Anderson is the coordinator of the Bead Soup party. Click here to find a list of all the participating blogs.
Basically it works like this: All participating artists are matched up with another artist and we send a focal, a clasp and some coordinating beads off to our partners. Then we each make a piece of jewelry and blog about it on party day.
Today is party day! My partner, B.R. Kuhlman (be sure to stop by her blog to see what I sent her and what she did with my beads), sent me this jam-packed box of goodies:
The package included an amethyst focal, dyed mother of pearl, ear wires, lilac stone, amethyst beads, seed beads, crystals, and a silver plate clasp. There were a lot of goodies in my package. I admit to being a little overwhelmed with what to do with it all, but she sure left me with a lot of choices.
So without further ado, here is what I created. It's a little out of my norm, since there isn't any lampwork in it at all. I thought about adding some, but she gave me so much to work with, I wanted to devote this piece to just her beads.
Since my tastes run more simplistic, I do have a lot of stuff I didn't end up using, but it's not like they won't find their way into other things.
BR did the gorgeous wire-wrapping on the pendant, and I put everything else together.
So you tell me. How did I do?