Today's offering:
Richelle Mead's succubus series:
Succubus Blues
Succubus on Top
Succubus Dreams
Succubus Heat
Succubus Shadows
Succubus Revealed (Coming Aug 2011)
Urban Fantasy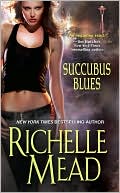 Summery from the B&N
"When it comes to jobs in hell, being a succubus seems pretty glamorous. A girl can be anything she wants, the wardrobe is killer, and mortal men will do anything just for a touch. Granted, they often pay with their souls, but why get technical?
But Seattle succubus Georgina Kincaid's life is far less exotic. At least there's her day job at a local bookstore—free books; all the white chocolate mochas she can drink; and easy access to bestselling, sexy writer, Seth Mortensen, aka He Whom She Would Give Anything to Touch but Can't.
But dreaming about Seth will have to wait. Something wicked is at work in Seattle's demon underground. And for once, all of her hot charms and drop-dead one-liners won't help because Georgina's about to discover there are some creatures out there that both heaven and hell want to deny…"
What can I say other than *I Heart Seth Mortensen*? He is one of my favorite heroes ever. So many of the heroes in urban fantasy are the to-die-for alpha male (which is good, I'm not saying otherwise.  There are plenty I heart there, too), but Seth is the quiet, sensitive, yet sexy, hero.  And Georgia is a tortured, soul sucking demon, with heart, doomed to have sex with men for thousands of years just to survive. She does what any goodhearted demon would do and preys on the morally corrupted. Seth is anything but unmoral, which means he is hands off. That's hard to do when the heart is involved.
For five books now, I have followed the ups and downs of the relationship of these two characters and all I can say is I can't wait to find out how it all ends in book six.
Disclaimer, these books are about a succubus who feeds off of sex to survive, so there is a fair amount of sexy times in each and everyone. If that isn't your thing, be forewarned.