I almost gave you another urban fantasy today, but decided to change it up a bit.
Ally Carter
I'd Tell You I Love You, but Then I'd Have to Kill You
Young Adult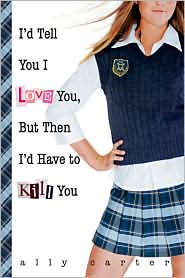 From the B&N website
"Cammie Morgan is a student at the Gallagher Academy for Exceptional Young Women, a fairly typical all-girls school—that is, if every school taught advanced martial arts in PE and the latest in chemical warfare in science, and students received extra credit for breaking CIA codes in computer class. The Gallagher Academy might claim to be a school for geniuses but it's really a school for spies.
Even though Cammie is fluent in fourteen languages and capable of killing a man in seven different ways, she has no idea what to do when she meets an ordinary boy who thinks she's an ordinary girl. Sure, she can tap his phone, hack into his computer, or track him through town with the skill of a real "pavement artist"—but can she maneuver a relationship with someone who can never know the truth about her?
Cammie Morgan may be an elite spy-in-training, but in her sophomore year, she's on her most dangerous mission—falling in love."
I'll admit this isn't the usual kind of book I'd read. I am a paranormal/urban fantasy kind of girl at heart. Obviously. Sure, I try other stuff when friends recommend it, but when left to my own devices you can bet I'm in one of those categories.
I ran across the Cammie Morgan series while frequenting Kristen Nelsen's blog (Ally's agent). For those of us aspiring to be published (at least traditionally), Kristen's blog is a must read). On a whim, I ordered the book when Kristen announced it had hit the New York Times best seller list. I finished it in one sitting and  was hooked. Although I admit I don't stalk Ally's website for publication dates like I do some my favorite Urban Fantasy authors, I have read and thoroughly enjoyed each book in the series.
Who doesn't want to read about girls in high school, training to be high level spies? These books are fun, easy reads and I wish they'd been around when I was a preteen. They would have been a nice contrast to the dozens of Sweet Valley High books I devoured.