Look at me! I am a baker. I bet some of you are surprised. I am learning all kinds of new skills, in the kitchen that is. Here are my fresh blueberry scones, made with honey instead of sugar.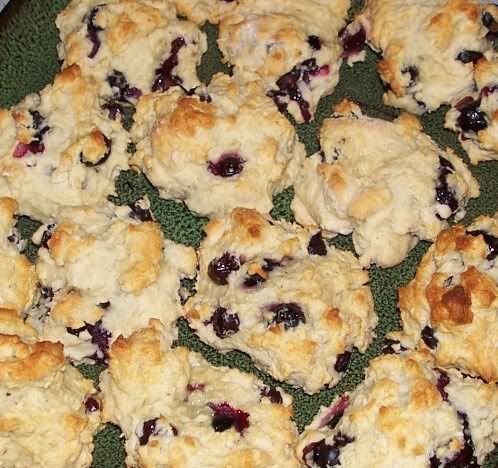 Recipe:
Preheat oven to 400 degrees
3 cups bisquick
2 tbsp honey
1 cup fresh or frozen blueberries (I used fresh)
1/4 cup milk
2 eggs
In medium bowl add eggs, milk, and honey. Beat together with a fork. Add blueberries. Fold in bisquick. Spoon onto an ungreased cookie sheet. Drizzle a tiny amount of honey on each one. Then bake for 10 to 12 minutes, or until golden.
On Saturday we went to get smoothies at our local smoothie bar (which we didn't get cause they were out of blueberries). On the door was as sign for a U pick blueberry place, that is a few miles from our home (If you have been reading, I do have my own bushes, but they are just babies and not producing much yet). So Off we went. $7 for a gallon. We got two. So I made scones and froze a bunch of them. I think I will make Greg a pie today. Now off to exercise those extra pounds I am inviting.