Every since the first time Greg and I went to New Orleans in 2003, the culture and vibe started to sink in. We found ourselves drawn to the place and anytime we were close (you know close is within 600 miles) we made it a point to stop and spend time here. We visited four times in our travels back and forth across the country, which is saying something since we rarely went anywhere twice, always on the hunt for the next adventure.
When we found ourselves always thinking about coming back, stalking real estate on the internet and in general dreaming of the place, we knew it was time. While we would love to live in the city, dream of living living there, it just wasn't practical for our situation. First off we wanted to keep the rv (which we are now trying to sell ironically), however keeping it and having a place in NoLa wouldn't work if we wanted to store it on our property. That is like saying you have a place in New York City or San Francisco and keep your rv with you. Not really doable.
Then there was the whole financial aspect. Wanting a lampwork studio and and office and a guest room meant more and more money to own a place and renting with a torching studio can be difficult at best. Plus the whole property insurance thing down there, ouch! We found ourslelves looking outside of the city. Which is where we found our pretty little cottage in a quiet town, on the north shore. We do love it, but still dream of New Orleans. However, it is close enough to go in whenever we want. Best of both worlds in our eyes.
Still NoLa's culture, architecture, and it's vibe have stolen a place in our hearts. Which brings me to Greg's newest marble:
Garden District NoLa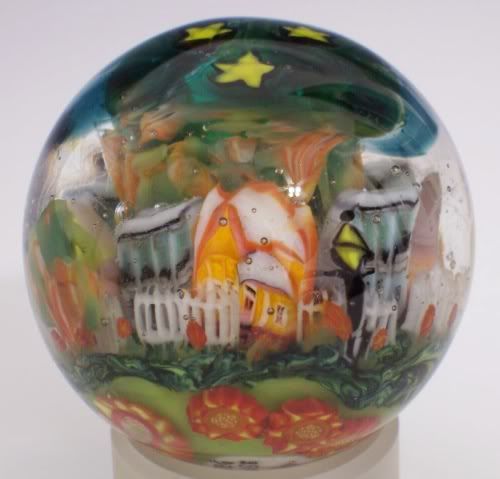 The ideas for the marble have been roaming around in Greg's head for about a year now. Finally it morphed into his vision. Stay tuned for the upcoming French Quarter marble. 🙂