Isn't this fun? One of the other blogs I visit posted about a front porch party. See it HERE. The blog Rose Colored Glasses lists over 70 participants in the Front Porch Party. Click on it to visit other bloggers porches or dream porches. If you have a thing for porches like I do, it may take a while. Enjoy!.
Here is my front porch in the making. We have lots of plans for it, but so far haven't gotten to any of them: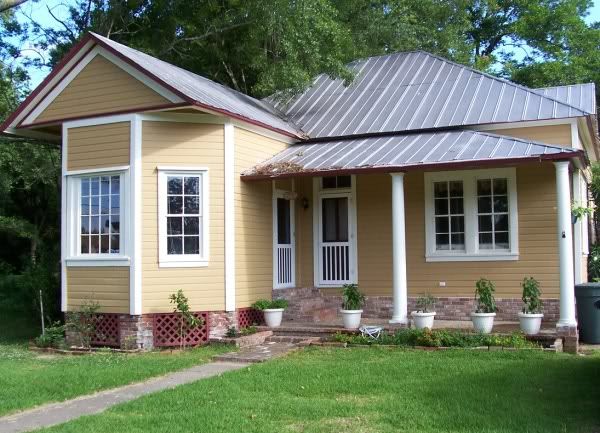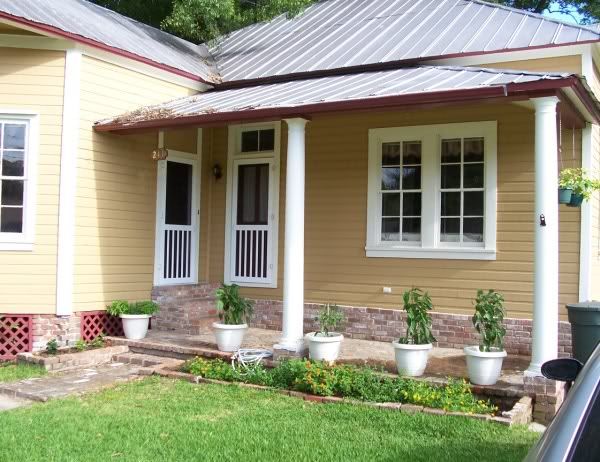 The potted plant closest to the house on the left is my herb pot. The other four are our pepper plants. We have a cowbell and red, yellow, and purple bell peppers. The bouganvillas hanging off to the right, usually hang in the front of the house, but they were not getting enough sun right now do to the sun being so high in the sky, so they were moved, for now.
We plan to build a wood porch and bring it up to the actual front door. Those brick steps are really high, which isn't a problem for us, being tall people, but anyone with aches or pains might have difficulty with them. Anyway the porch was on the schedule for this spring but didn't make it. Maybe in the fall. It's way too hot now. Also there are hooks for a porch swing. I can't wait for that. 🙂
And just for fun: My sunflower patch.